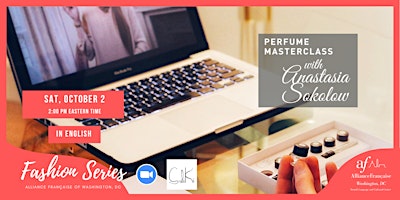 Online Perfume Masterclass
Saturday 2nd October 2021 — 2:00pm to 4:00pm
Are you aware that the perfume you wear says something about you? Discover the fascinating world of scents from the comfort of your home in an exclusive 2-hour online Perfume Masterclass with the founder of Paris-based Maison de Parfum
Sulékó
, Anastasia Sokolow.
Anastasia will take you on a journey across the four seasons of Sulékó, highlighted by art, poetry and the demonstration of scent ingredients, to teach you the language of scents.
Anastasia will reveal each step of the complex process of perfume creation based on centuries-old French savoir-faire. You will explore the universe of scents through 12 exceptional scent ingredients, learn about their origin and their extraction mode.
You will also discover the art of porcelain and the exceptional know-how of the artists Sulékó has collaborated with to create its beautiful sculpture-bottles.
This journey will help you refine your own sense of smell and find out which perfume suits your personality.
This masterclass will be hosted by the Alliance Française de Washington, DC and led by Anastasia Sokolow live on Zoom from her Sulékó showroom in Paris.
This event will be held in English.
Rates
$75 + Eventbrite fee - members of AFDC;
$90 + Eventbrite fee - non-members.
The price includes online access to the Masterclass for 2 people (on one screen) and a luxury perfume kit (see photo below) containing all the materials for the class (12 scent ingredients, 4 perfume samples, and 1 manual). Shipping is included.
The kit can be used by 2 people but you can't split it. To enjoy it in its entirety you need to be in the same room as your guest. All participants will get a 25% discount on the Suleko perfume sculpture-bottles.
About Anastasia Sokolow and her Perfume House Sulékó
Anastasia Sokolow uncovered the world of perfume when she joined the Yves Saint Laurent Beauté marketing team in New York. Back in Paris, she immersed herself into this universe; she studied the history of Perfume at the Osmothèque (French Conservatory of Perfumes) and followed high-level trainings on perfume composition at ISIPCA. Anastasia then decided to pursue her dream and, 7 years ago, she launched Sulékó, a Perfume House, reuniting Perfume and French Artistic Craftsmanship. Her creations were featured in Forbes, FT, Vogue… She also teaches the Sulékó language of scents through live and online classes. "The world of scents is fabulous and mysterious, it brought a lot of joy into my life," says Anastasia. "I now wish to share my knowledge and my passion with you and invite you to experience the joy of exploring the world around you with your sense of smell!"
***
All attendees will receive a Zoom join link a couple of days before the event. Please make sure you add Eventbrite as Safe Sender to your email list. For any questions, please contact Natasha Zavadskaia at executive.assistant@francedc.org.