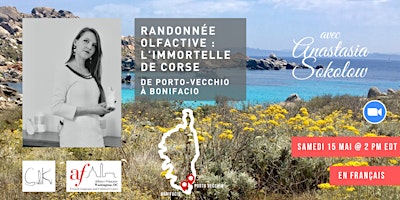 Adults
Fashion
French Culture
French History
Lecture
Randonnée olfactive avec Anastasia Sokolow : l'immortelle de Corse
Saturday 15th May 2021 — 2:00pm to 3:00pm
L'Alliance Française de Washington, DC vous invite à découvrir la France avec votre sens de l'odorat! Rejoignez-nous pour une expérience inédite, à la fois virtuelle et très interactive, avec la fondatrice de la Maison de Parfum Sulékó, Anastasia Sokolow. Anastasia vous fera découvrir la région à travers le regard d'un parfumeur (elle-même) en dévoilant ses promenades favorites dans la région pour vous présenter la richesse des facettes olfactives de l'enivrante immortelle.
Cet atelier sera animé par Anastasia Sokolow en direct via Zoom depuis le showroom Sulékó du XVIIe arrondissement de Paris.
Please register here if you would like to attend the same event in English (at 3:30 PM EDT).
Inscrivez-vous au plus vite car les places sont limitées. Cet atelier est réservé aux 15 personnes maximum.