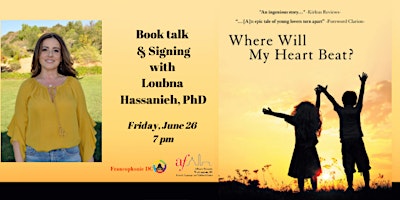 Online Book Talk & Signing with Loubna Hassanieh
Friday 26th June 2020 — 7:00pm to 8:30pm
Under the gracious patronage of the Embassy of Lebanon, the Alliance Française of Washington, DC is proud to present Dr. Loubna Hassanieh's debut novel Where Will My Heart Beat? We will be holding this event online via web teleconferencing platform Zoom.
Books for purchase are availble through the local DC Politics & Prose bookstore: https://www.politics-prose.com/book/9781480870024.
This online event is free, but registration is required. Donations to support cultural programs of Alliance Française of Washington, DC are highly appreciated.
About the book
Although its essential elements are fictional, Where Will My Heart Beat? delves into a topic that is very real: it raises questions about the nature of our existence. Its characters shed light on the diversity of the human experience while underscoring the enduring human quest we all share. While some of our pursuits are rudimentary, such as putting food on the table, others become far-reaching as we face a comprehensive dilemma: are we discrete physical entities bouncing in a physical universe, or spiritual beings imbuing collective mind and soul with our individual experiences?
"Loubna Hassanieh's romance Where Will My Heart Beat? brings good and evil into stark contrast in an epic tale of young lovers torn apart… " — Foreword Clarion Review
About the author
Dr. Loubna Hassanieh was born and raised in Beirut, Lebanon, during grueling years of civil wars and invasions. She earned her bachelor's degree in Biology from the University of California in Los Angeles (UCLA), and her PhD in Biochemistry and Molecular Biology from the University of Southern California (USC). She's a published scientist with a deep understanding that knowledge cannot be attained through scientific reductionism alone. She wrote her debut novel Where Will My Heart Beat? to spark the conversation about the mystery of human existence. Dr. Hassanieh resides in Los Angeles with her husband and two children.