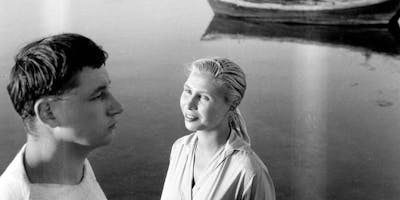 AFDC Film Festival: the opening film "La pointe courte" by Agnès Varda
Monday 11th November 2019 — 3:00pm to 5:00pm
PLEASE NOTE THAT THE SCREENING IS FREE AND ADMISSION IS BASED ON THE "FIRST-COME-FIRST-SERVED BASIS". TO GUARANTEE YOURSELF A SPOT, PLEASE ARRIVE IN ADVANCE.
Refer to the NGA web site: https://www.nga.gov/calendar/film-programs/fall-2019/pointe-court.html
The opening film, La Pointe Courte, will be screened at the National Gallery of Art on November 11, 2019 at 3 pm. The film will be Introduced by Nicholas Elliott, a US correspondent for Cahiers du cinéma.
La Pointe Courte (1954) | 86 minutes | France
In French with English subtitles. FREE.

Agnès Varda's first feature, La Pointe Courte was filmed with a small crew in a coastal fishing village and, typical for Varda's work, proved to be ahead of its time, ultimately inspiring the cinematic new wave in France. Local fishermen play themselves, while a pair of actors, playing a young couple with marital woes, arrive on holiday, a counterpoint to local life against a backdrop of Varda's neorealist visuals. Check out the trailer here.
Film Festival Schedule:
Monday, November 11, 3:00 pm at the National Gallery of Art, Lecture Hall of the West Building
La pointe courte (1954), by Agnès Varda | 86 min | France | in French with English subtitles
Tuesday, November 12, 7:00 pm, at Alliance Française of Washington, DC
Détruire, dit-elle (1969), by Marguerite Duras | 100 min | France | in French without subtitles
Wednesday, November 13, 7:00 pm, at The Avalon Theatre
De l'autre côté (2002), by Chantal Akerman | 109 min | France, Belgium, Australia, Finland | in French, English, Spanish with English subtitles
Thursday, November 14, 7:00 pm, at American Film Institute in Silver Spring
35 Rhums (2008), by Claire Denis| 100 min | France | in French and German with English subtitles
Friday, November 15, 7:00pm, at Alliance Française of Washington, DC
La nuit porte-jarretelles (1985), by Virginie Thévenet |85 min | France| in French without subtitles
Saturday, November 16, 3:00 pm, at The Kennedy Center, Cinema Room, The REACH
Fad, Jal (1979), by Safi Faye | 112 min | France, Senegal | in Serer with English subtitles
Monday, November 18, 7:00 pm, at La Maison Française of the French Embassy
Paul Sanchez est revenu! (2018), by Patricia Mazuy |110 min | France, Belgium | in French with English subtitles
Our partners: