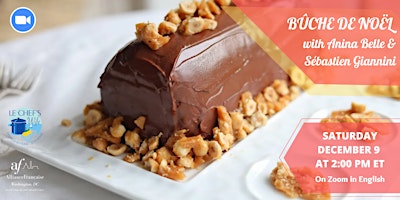 BÛCHE DE NOËL with Le Chef's Wife
Saturday 9th December 2023 — 2:00pm to 3:00pm
If you are intimidated to make your own Bûche de Noël, this event is for you! Join us for an afternoon of holiday baking fun with blogger and home cook Anina Belle and her husband, French Chef Sébastien Giannini, who will demonstrate how to make an elevated version of the traditional Bûche de Noël. Worthy of a high-end French pâtisserie, this recipe is easy to make with a step-by-step guidance by incredibly talented Anina Belle Giannini and some useful tips from Le Chef. They will hold your hand through each step, making sure your cake is a masterpiece!
This event will be in English with a smattering of French words and expressions. Holiday vibes guaranteed. Join us!
Free for AFDC members and subscribers of Le Chef's Wife's Newsletter, $5 for general admission.
Click here for recipe instructions and ingredients. Follow @lechefswife on Instagram or visit www.lechefswife.com for easy-to-make French recipes and tips for living a French Riviera-inspired life in the USA.