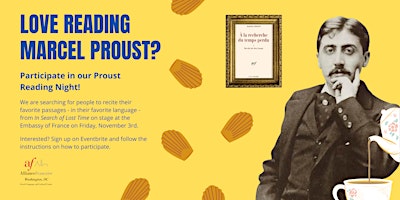 Marcel Proust Reading Night: Call for Participants
Friday 3rd November 2023 — 7:00pm to 9:00pm
Are you an avid reader of Proust? Have you read some (or all?) of his 7 volumes of À la recherche du temps perdu in French or in translation? Do you like reciting or acting in public? If so, we would like to hear from you!
The reading event will be held on Friday, November 3rd at 7-9pm at the Embassy of France. It will consist of participants reading their favorite passages from À la recherche du temps perdu in different languages. There will also be musical interludes (more details to come). This event will be free and there is no honorarium offered.
This event is part of the series of events dedicated to the greatest French writer of the 20th century: a screening of the film by Raúl Ruiz Le temps retrouvé (1999) at the French Embassy on Wednesday November 1st, and a panel discussion about Marcel Proust at the Alliance on November 2nd.
If you are interested, send a passage you would like to read to Natasha Zavadskaia at culture@francedc.org. Please specify in which language you plan to read it: it can be in French, but also in its translation to any other language. The passage you choose should not exceed 4 paragraphs.
For any questions, please contact Natasha Zavadskaia at culture@francedc.org.