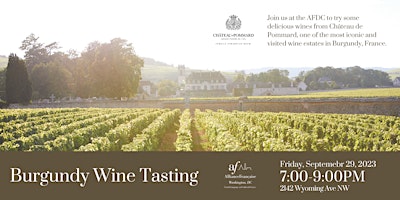 Burgundy Wine Tasting with Château de Pommard
Friday 29th September 2023 — 7:00pm to 9:00pm
Located in the eastern part of France, south of Paris and north of Lyon, Burgundy is one of the world's most famous wine regions. Join us for an exceptional evening of Burgundy wine tasting & food pairing with Château de Pommard.
Grace Decoske, a passionate wine professional, will guide you on a tasting through 6 different wines from Burgundy. With Grace, you will learn about all that goes into the process of growing, harvesting, and making wine and then taste the differences.
This event will include a master class & 6 different wines with food pairing. All proceeds will go to the Alliance Française of Washington, DC to support our cultural programs.
This event will last for an hour and a half and will be in English.