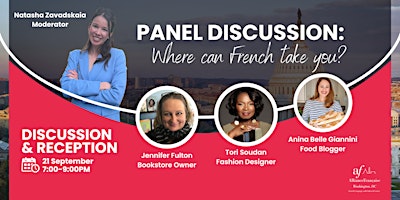 Panel Discussion: Where can French take you?
Thursday 21st September 2023 — 7:00pm to 9:00pm
Join us for a Panel Discussion with these three extraordinary female entrepreneurs and learn how French changed their lives:
Jennifer Fulton, French Bookstore Owner (Bonjour Books DC)
Anina Belle Giannini, Food Blogger (Le Chef's Wife)
Tori Soudan, Fashion Designer (Tori Soudan Brand)
The Panel Discussion will address their unique paths as professional women in the US and how the French language opened doors to new opportunities.
Natasha Zavadskaia, Director of Cultural Programs at the AFDC, will be moderating the Panel. Q&A after the discussion.
Light reception and a glass of wine will be served.
Please be ready to show proof of vaccination upon entry.