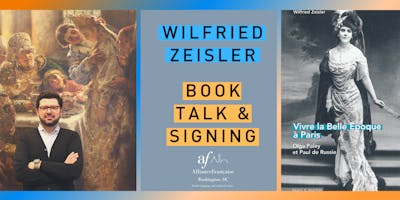 FRANCE FOREVER SERIES: Vivre la Belle Epoque à Paris" a book talk with Wilfried Zeisler
Friday 13th September 2019 — 7:00pm to 9:00pm
Le premier événement de notre saison culturelle 2019-2020 continue la célébration des 70 ans de l'Alliance Française de Washington, DC! C'est un grand honneur pour l'AFDC de recevoir une nouvelle fois Dr. Wilfried Zeisler, conservateur en chef au Hillwood Estate, Museum & Gardens, qui présentera son dernier ouvrage «Vivre la belle époque à Paris, Olga Paley et Paul de Russie».
A PROPOS DE L'AUTEUR : Diplômé de Sorbonne Université et de l'École du Louvre à Paris, Wilfried a beaucoup écrit sur les arts décoratifs français et russes, notamment un livre de 2010 sur la céramique française commémorant l'Alliance franco-russe, plusieurs articles et des contributions à des ouvrages comme Artistic Luxury Fabergé Tiffany Lalique (2008). Sa thèse intitulée L'Objet d'art et de luxe français en Russie (1881-1917) a été publiée à Paris en 2014. Entre 2009 et 2011, il a participé aux expositions à Paris et à Monaco. Au Hillwood, il a organisé les expositions Splendor and Surprise: Elegant Containers, Antique to Modern (2015), Konstantin Makovsky: The Tsar's Painter (2016), et Fabergé Rediscovered (2018). Wilfried est le coauteur de Konstantin Makovsky: The Tsar's Painter in America and Paris (2015) et l'auteur de Fabergé Rediscovered et de Vivre la Belle Epoque à Paris: Paul de Russie et Olga Paley, tous deux publiés en 2018.
A PROPOS DU LIVRE: « Vivre la Belle Epoque à Paris, Olga Paley et Paul de Russie ».
Basé sur une documentation inédite, cet ouvrage retrace le destin parisien de la comtesse Olga de Hohenfelsen, plus tard connue sous le nom de princesse Paley, épouse morganatique du grand-duc Paul de Russie, oncle du dernier empereur Nicolas II. Tout en nous plongeant dans l'univers de Marcel Proust, la plupart des relations mondaines de la princesse Paley ayant nourri l'imaginaire de l'écrivain, l'ouvrage explore la vie quotidienne du couple mettant en lumière ses relations avec les plus grands fournisseurs tels les couturiers Worth et Paquin, ou le joaillier Cartier. Il dresse également un panorama du marché parisien de l'art, en suivant pas à pas l'aménagement des résidences successives du couple de Paris à Saint-Pétersbourg. Au lendemain de la Révolution russe, on reconnaît l'importance de la collection et du palais élevé pour l'abriter qui accueille pour un temps le musée d'Art et d'Histoire français. Dispersée au cours des années 1920, la collection est ici étudiée pour la première fois dans son ensemble.
L'événement en français. Traditionnel vin et fromages après l'événement.

AFDC Member / Culture Pass: $10 + Processing Fees - General Admission: $15 + Processing Fees.
Culture & Events policies:
The member discount is applicable for one ticket per member.
Guests must pay the non-member price.
Refunds will be issued when Alliance française cancels an event, or upon a 24-hour request for refund with or without cause sent via email to cultureaf(at)francedc.org by an attendee. No other refunds will be given.
The cultural department highly recommends advanced registration (online, by phone, or in person), as events sell out quickly.
If tickets are available, the AFDC can accept payment at the door by credit card, check, or cash (exact change only). The AFDC cannot make change at the door. The AFDC reserves the right to refuse entry to sold out events.
2 hours street parking from 7:30am to 8:30pm.