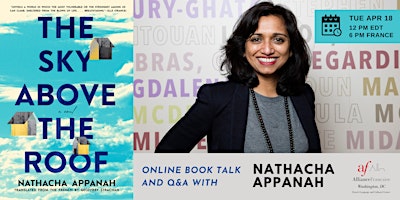 Online Book Talk with Nathacha Appanah
Tuesday 18th April 2023 — 12:00pm to 1:00pm
Join us for an online conversation with Nathacha Appanah who will discuss her new novel The Sky Above The Roof translated by Geoffrey Strachan and scheduled for release in the US on April 4, 2023. Appanah's new novel is "a lyrical and richly human exploration of the disruptive turbulence engendered by family and identity." (Booklist).
We will host the author online on Tuesday, April 18 at 12pm EDT /6 pm France. Join us to listen to the conversation and participate in the Q&A.
This conversation will be in English. Nathacha Appanah will read excerpts from the book in French and English. You can order your copy in advance at Bonjour Books DC.
About the author
Nathacha Appanah was born in Mahébourg, Mauritius. She is the author of award-winning Tropic of Violence, Waiting for Tomorrow, and The Last Brother. She works as a journalist and translator and lives in France.
About the translator
Geoffrey Strachan is an award-winning translator of French and German literature, including novels of Andreï Makine and Jérôme Ferrari.
About the book
First published as Le ciel par-dessus le toit by Editions Gallimard, Paris, in 2019. Translated from French by Geoffrey Strachan.
Publisher: Graywolf Press (English translation, April 4, 2023)
It all begins with a crash.
One night, seventeen-year-old Wolf steals his mother's car and drives six hundred kilometers in search of his sister, who left home ten years ago. Unlicensed and on edge, he veers onto the wrong side of the road and causes an accident. He is arrested and incarcerated, forcing his mother and sister to reconnect and pick up the pieces in order to fight for his release.
What follows is a lyrical, precise, and unflinching account of the events that led to this moment, told through the alternating perspectives of Wolf's mother, sister, and grandfather, as well as the doctor who was present at Wolf's birth. With each chapter, new versions of the story and views of reality unfold, and they fit together like puzzle pieces: in an uncertain order at first, and then slowly falling neatly into place as the pages turn. As details about the characters' lives and the disconnections in their relationships are revealed, the story becomes even more propulsive, even more compelling.
In this raw and poignant novel, Nathacha Appanah considers how trauma shapes generations and the wounds it leaves behind. The Sky above the Roof is both a portrait of a fractured family and a poetic exploration of the ways we break apart and rebuild.
You can order your copy at Bonjour Books DC.