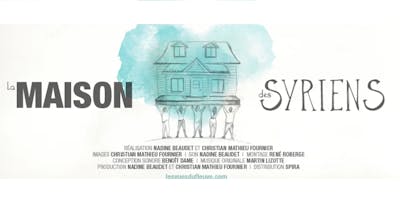 Film Screening "La Maison des Syriens"
Thursday 14th March 2019 — 6:30pm to 8:30pm
The Québec Government Office and the Embassy of Canada are proud to present the film "La maison des Syriens (A House for the Syrians)" in partnership with the Alliance Française de Washington as part of DC Francophonie Festival. "La maison des Syriens" is a 2018 documentary about a small Québécois village preparing to receive a family of Syrian refugees. The 80-minute film will be followed by a discussion with the Minister Counsellor responsible for migration at the Embassy of Canada on the pan-Canadian effort to welcome more than 40,000 refugees from the ongoing civil war in Syria.
The film will be screened in French with English subtitles. You can watch the trailer here.
Le Bureau du Québec et l'Ambassade du Canada sont fiers de présenter le film « La maison des Syriens,» en partenariat avec l'Alliance Française de Washington dans le cadre du festival de la Francophonie DC. "La maison des Syriens" est un documentaire de 2018 sur une petite communauté québécoise qui se prépare à recevoir une famille réfugiée de la Syrie. Le film de 80 minutes sera suivi d'une discussion avec le Ministre Conseiller responsable de la migration à l'Ambassade du Canada sur l'effort pancanadien d'accueillir plus de 40,000 réfugiés de la guerre civile qui frappe toujours la Syrie.
Le film sera présenté en français avec des sous-titres en anglais. Visionnez la bande-annonce ici.
Admission is free, but registration is required. Donations to the Alliance française de Washington DC are appreciated, and support the cultural programs of the Alliance Française de Washington DC.
Culture & Events policies:
The member discount is applicable for one ticket per member.
Guests must pay the non-member price.
Refunds will be issued when Alliance française cancels an event, or upon a 24-hour request for refund with or without cause sent via email to cultureaf(at)francedc.org by an attendee. No other refunds will be given.
The cultural department highly recommends advanced registration (online, by phone, or in person), as events sell out quickly.
If tickets are available, the AFDC can accept payment at the door by credit card, check, or cash (exact change only). The AFDC cannot make change at the door. The AFDC reserves the right to refuse entry to sold out events.