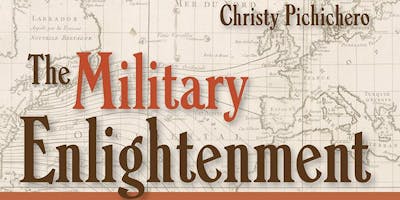 Adults
Books & Literature
French History
"The Military Enlightenment", book talk & signing
Friday 22nd February 2019 — 7:00pm to 9:30pm
In an era when men went to battle donning embroidered coats with gold buttons and buckles, silk stockings, powdered wigs, and full makeup, participants in the French military enterprise changed the face of war as we know it. Indeed, as Professor Christy Pichichero argues in her recent book The Military Enlightenment: War and Culture in the French Empire from Louis XIV to Napoleon (Cornell, 2017; finalist Oscar Kenshur Book Prize, 2018), the Geneva Conventions, post-traumatic stress disorder, the military "band of brothers," and soldierly heroism all found their antecedents in the eighteenth-century French armed forces. From the wars of the Sun King through those of the "Little Corporal," from Canada to the Caribbean and India, the military was one of the few institutions of Old Regime France to transform progressive theories into practice, actually operationalizing the Enlightenment. At the AFDC, Professor Pichichero will share her fascinating discoveries and entertaining historical anecdotes for an evening of intellectual discussion and fun.
ABOUT THE LECTURER: Dr. Christy Pichichero is Associate Professor of French and History at George Mason University. She earned her A.B. in Comparative Literature at Princeton University, a bachelor's of music in opera singing from the Eastman School of Music, and a Ph.D. in French Studies from Stanford University. She has held fellowships at Cambridge University (King's College), the École Normale Supérieure (Paris), West Point Military Academy, and the Society of the Cincinnati. She is the author of The Military Enlightenment and articles on military culture and French neoclassical theater, painter Antoine Watteau, the history of emotions, race, and multiculturalism in France. She lives in Georgetown with her husband and two daughters.
Event in English. Light refreshments after the event. Book on sale for signing on the day of the event.
AFDC Member / Culture Pass: $10 + Processing Fees - General Admission: $15 + Processing Fees.
Culture & Events policies:
The member discount is applicable for one ticket per member.
Guests must pay the non-member price.
Refunds will be issued when Alliance française cancels an event, or upon a 24-hour request for refund with or without cause sent via email to cultureaf(at)francedc.org by an attendee. No other refunds will be given.
The cultural department highly recommends advanced registration (online, by phone, or in person), as events sell out quickly.
If tickets are available, the AFDC can accept payment at the door by credit card, check, or cash (exact change only). The AFDC cannot make change at the door. The AFDC reserves the right to refuse entry to sold out events.
2 hours street parking from 7:30am to 8:30pm.