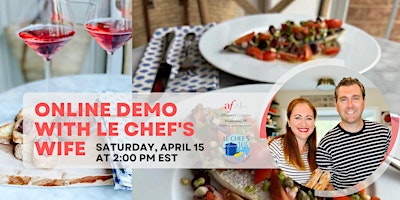 Journey to the French Riviera: Online Demo with Le Chef & Le Chef's Wife
Saturday 15th April 2023 — 2:00pm to 3:00pm
Join us to get transported to the French Riviera with Anina Belle Giannini, author of Le Chef's Wife blog, American-Canadian hotelier, and passionate cook, enamored with the culture of southern France and French joie de vivre. Anina Belle together with her French husband Chef Sébastien will show how to make authentic Olive Tapenade, which pairs well with Kir Royal, and Branzino with la sauce Vierge.
This event will be in English with a smattering of French cooking terms. We hope many of you will participate and cook along, but you are equally welcome to just join in, watch and ask questions.
You will find all recipe instructions on Le Chef's Wife's blog: Kir Royal, Olive Tapenade, Branzino. Follow @lechefswife on Instagram or visit www.lechefswife.com for easy-to-make French recipes and tips for living a French Riviera-inspired life in the USA.
Who is joining us? A bientôt !