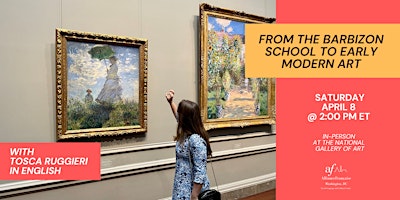 National Gallery of Art Private Visit with Tosca Ruggieri
Saturday 8th April 2023 — 2:00pm to 4:00pm
You may have visited the National Gallery of Art in Washington, D.C. but how about seeing it again in a new light?
For this guided tour in collaboration with the Alliance Française of Washington, D.C., Tosca Ruggieri curates a special visit of French Art on view at the NGA. Due to the planned closures of some galleries, we won't be able to do a full tour as in previous times. This particular tour will cover the time period from the Barbizon School to Early Modern Art
Meeting point: outside the National Gallery of Art's West Wing entrance located on Constitution Avenue, perpendicular to 6th St NW. See the picture of the entrance below.
Allez, on y va !?