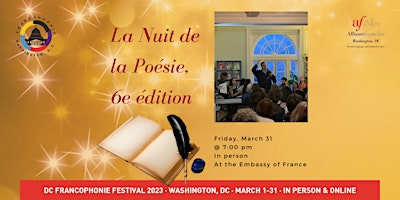 Nuit de la Poésie, 6e édition
Friday 31st March 2023 — 7:00pm to 9:00pm
Our Poetry Night is back, and this time – in person! For its 6th edition, we will gather in the auditorium at the Embassy of France to allow more people to participate.
The Alliance Française is organizing this evening celebrating the poetry of le monde francophone as part of the DC Francophonie Festival.
Did you know that many countries, which don't have French as their official language, are part of the Organisation internationale de la Francophonie, either as a member, an associated member or an observer? For example, such counties as Greece, Georgia, Serbia, Armenia, Moldova, Romania, Ukraine are all part of Francophonie!
Join us to hear select poems from around the Francophone world, recited in the poem's original language and its translation in French. Have poetry of your own? Bring it along to share during the open mic session!
Admission is free, but registration is required. Donations are appreciated and support the cultural programs of the Alliance Française de Washington DC.