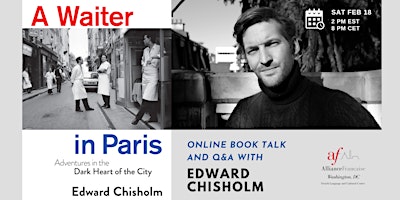 A Waiter in Paris with Edward Chisholm
Saturday 18th February 2023 — 2:00pm to 3:00pm
What is it really like to be a waiter in Paris? Edward Chisholm's engrossing memoir of his time as a Parisian waiter takes you beneath the surface of one of the most iconic cities in the world—and tells you the ugly truth about dining in the City of Light.
A waiter's job is to deceive you. They want you to believe in a luxurious calm because on the other side of that door . . . is hell.
We will host the author online on Saturday, February 18 at 2pm EST / 8 pm CET. Join us to listen to the conversation and participate in the Q&A.
This event will be in English. The book is available at Politics & Prose and participants of this event can use promocode SPECIAL10 for a 10% discount on their order. The discount is for ordering online only. Click here to order your copy.