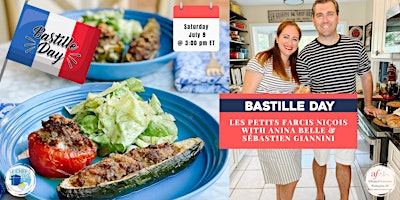 Les Petits Farcis Niçois: Bastille Day Cooking Demo with Le Chef's Wife
Saturday 9th July 2022 — 3:00pm to 5:00pm
Les Petits Farcis Niçois, also known as Petis Farcis à la Provençale (Stuffed Provençal Vegetables) are a classic dish of French Riviera Cuisine. Tender garden vegetables, filled with a sausage and herb mixture and baked in the oven until all the flavors fuse together to create an incredibly comforting and filling dish that tastes of summer - any time of the year!
Anina Belle Giannini and her French husband Chef Sébastien will be our guests online on Saturday, July 9 to show you how to make this delicious Provençal recipe. We will also, of course, raise a glass to Bastille Day. Let's celebrate together. Join us!
Recipe instructions & ingredients: https://lechefswife.com/les-petits-farcis-nicois/.
This event will be in English with some French words and expressions. Free for members of Alliance Française of Washington. Please RSVP to receive your join link.