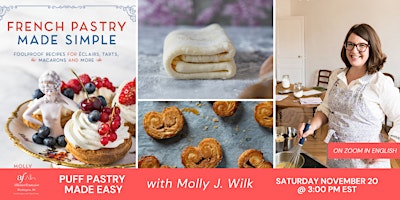 Adults
Books & Literature
Tasting
Puff Pastry Made Easy with Molly J. Wilk
Saturday 20th November 2021 — 3:00pm to 4:30pm
Join us online on November 20 to meet THE Pastry Queen of Versailles, Molly J. Wilk! An American pastry chef and instructor from Texas, Molly lives in Versailles, where she teaches French pastry classes from her 18th-century apartment. She also recently published her new book, French Pastry Made Easy.
During this online workshop/conversation, Molly will demonstrate in real time how to make puff pastry at home. There will be many opportunities for questions while waiting for the dough to chill! Ask anything you ever wanted to know about French pastry and how to make it at home (or how to switch careers, move to France and become a pastry chef). Molly will also show how to make apple spiced palmiers.
This event will be in English and will last about 1h/1h15.
Molly J. Wilk's book French Pastry Made Easy is available for purchase in the US here.
***
Molly Wilkinson is a pastry chef living in Versailles. Originally from Dallas, Texas, in 2013 she changed careers to follow her passion by moving to Paris and studying pastry at Le Cordon Bleu. After working at several bakeries in both France and the US, she now teaches pastry out of her 18th century apartment just 5 minutes walk from the Versailles Chateau and on Zoom. She also just released a cookbook called, French Pastry Made Simple. Her method is all about making French pastry easy by breaking down recipes and showing you lots of tips and tricks to help any baker achieve extraordinary results.
Follow @mollyjwilk on Instagram or visit www.mollyjwilk.com for more recipes.
***
All attendees will receive a Zoom join link a couple of days before the event. Please make sure you add Eventbrite as Safe Sender to your email list. For any questions, please contact Natasha Zavadskaia at executive.assistant@francedc.org.