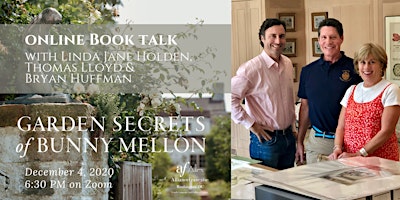 Garden Secrets of Bunny Mellon: Online Book Talk
Friday 4th December 2020 — 6:30pm to 7:30pm
The Alliance Française of Washington, DC will be hosting Linda Jane Holden, Thomas Lloyd, and Bryan Huffman for a presentation of their newly released illustrated book Garden Secrets of Bunny Mellon, as well as Bunny Mellon Garden Journal.
This event will be in English. You can order a copy of Garden Secrets of Bunny Mellon and Bunny Mellon Garden Journal through Amazon or at a local bookstore.
About the books
Garden Secrets of Bunny Mellon is the story of a self-taught amateur gardener who designed the White House Rose Garden and designed the Mellon family gardens at Oak Spring in Upperville, VA and in Antigua, among others. Extracts of Bunny's garden writings are lavishly woven throughout, and many of her never-before-seen photographs fill the pages. Here, Bunny Mellon's garden philosophy and "standards" are revealed. While she considered all of her standards to be of the utmost importance, time spent in the garden was probably her #1 secret. If you don't show up, then what's the point? Readers will feel like Bunny Mellon is their gardening guide and friend.
Bunny Mellon Garden Journal, illustrated with Bunny Mellon's charming line drawings and punctuated with quotes from her personal gardening notes, this beautiful journal will be both useful and enlightening. A delightful gift for a master gardener or a late-bloomer.
About the authors
Linda Jane Holden is the author of The Gardens of Bunny Mellon, published October 2018. She lives in the Northern Virginia portion of the Washington metropolitan area.
Thomas Lloyd is the grandson of Bunny Mellon and the president of the Gerard B. Lambert Foundation. He lives in Washington, DC.
Bryan Huffman was a friend of Bunny Mellon and is an interior designer based in Charlotte, NC.
P. Allen Smith (Foreword) is the host of three public television programs and the author of numerous books on gardening and home.