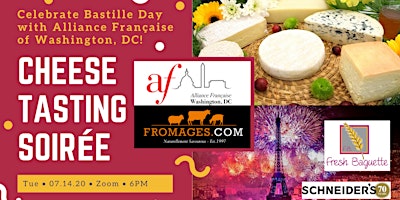 Bastille Day with AFDC: Cheese Tasting Soirée
Tuesday 14th July 2020 — 6:00pm to 7:30pm
Join us for an amazing cheese tasting soirée to celebrate Bastille Day together!
Do you miss France? Do you miss French cheese? Do you long for a French-style "soirée" ? Bastille Day is a perfect occasion to enjoy a cheese platter shipped to you directly from France and presented by our very own Executive Director, Sarah Diligenti! Join us on Tuesday, July 14 at 6:00 pm in Zoom for an hour of fun, chat, great cheese, baguette and wine.
How it works:
We are partnering with Fromages.com located in France which is graciously offering a 15% discount for your order!
1. Register on Eventbrite - it's free! Registration is open until July 2, 4:00 pm EDT.

2. You will receive a 15% discount coupon after June 25.
3. Place your order of the Spring Tour de France 2020 cheese platter before July 5, 11:59 pm EDT.
4. You will receive your cheese platter after July 6 within a couple of days at your home.
5. Preserve the cheese in your fridge or in a cold place. Do not eat the cheese before the event! ;-)
6. A couple of days before the online event, you will receive a Zoom join link.
7. On Tue, July 14 at 6:00 pm connect through the join link to our Zoom cheese tasting.
8. Enjoy your gourmet trip into France's cheese world ...
Don't forget the baguette ! You can get it from our sponsor, Fresh Baguette, which has three stores in the DMV area: Bethesda, Georgetown and Rockville. Our wine sponsor Schneider's of Capitol Hill is delivering delicious wine to your home and will be delighted to help with the selection!
Here is a skeak peek into your cheese journey: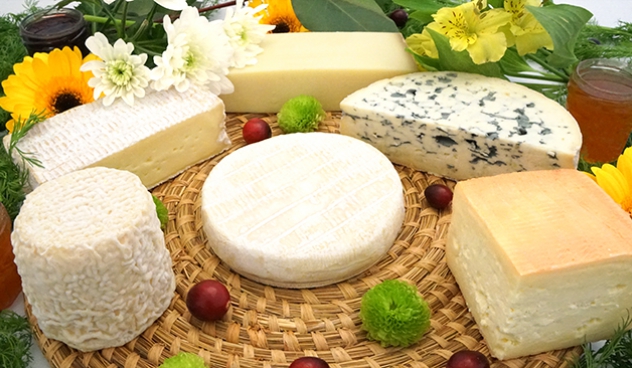 Your gourmet trip starts in Midi-Pyrénées with the soft and delicate Perail
Then go to middle of France, discover the soft and tasty Chabichou
and now let's go to Ile de France (Paris) discover the mythic Brie de Meaux
Go to Nord-Pas-de-Calais (North of France) enjoy a powerful cow cheese named Maroilles
you're gonna make a stop in Auvergne with the strong and delicate Fourme d'Ambert
And finish your trip in Rhône-Alpes to taste the amazing Beaufort
This online event is free. Donations to our cultural programs are highly appreciated.
Thank you and à bientôt !