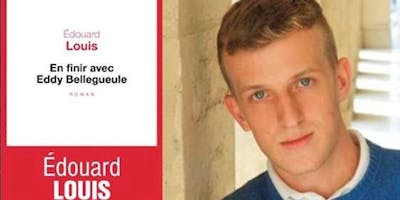 Rencontre avec Edouard Louis, écrivain de la violence sociale
Saturday 4th May 2019 — 6:30pm to 9:00pm
Venez nous rejoindre le samedi 4 mai pour rencontrer Edouard Louis, l'auteur d'Eddy Belle-Gueule, Histoire de la violence, Qui a tué mon père. Jeune et talentueux, Edouard Louis parlera de ses œuvres et de son importance en tant que force transformative de la littérature française contemporaine. L'événement sera organisé sous forme de conversation avec le professeur de Johns Hopkins University Tristan Cabello et en partenariat avec Politics et Prose.
L'événement sera en français exclusivement, sans traduction. Un cocktail avec des petits fours sera servi après l'événement.
AFDC Member / Culture Pass: $10 + Processing Fees - General Admission: $20 + Processing Fees.
Culture & Events policies:
The member discount is applicable for one ticket per member.
Guests must pay the non-member price.
Refunds will be issued when Alliance française cancels an event, or upon a 24-hour request for refund with or without cause sent via email to cultureaf(at)francedc.org by an attendee. No other refunds will be given.
The cultural department highly recommends advanced registration (online, by phone, or in person), as events sell out quickly.
If tickets are available, the AFDC can accept payment at the door by credit card, check, or cash (exact change only). The AFDC cannot make change at the door. The AFDC reserves the right to refuse entry to sold out events.
2 hours street parking from 7:30am to 8:30pm.