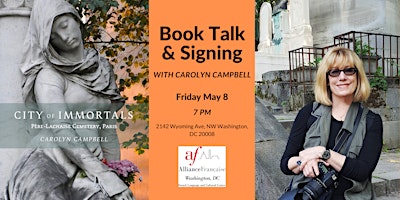 Adults
Books & Literature
Lecture
City of Immortals: Père-Lachaise Cemetery, a Book Talk
Friday 20th November 2020 — 7:00pm to 8:30pm
FRANCE FOREVER SERIES: The Alliance Française of Washington, DC is proud to welcome Carolyn Campbell, a published author and exhibited photographer, for an online conversation where she will present her bestselling debut book City of Immortals: Père-Lachaise Cemetery, Paris.
This event will be in English. Signed copies of the book are available for purchase at Goff Books with a 20% discount offered to all registered attendees. Email executive.assistant@francedc.org if you don't receive your coupon code.
About the book
This first-person account of a legendary necropolis will delight Francophiles, tourists, and armchair travelers while enriching the experience of taphophiles (cemetery lovers) and aficionados of art and architecture, mystery and romance. Carolyn Campbell's evocative images are complemented by those of renowned landscape photographer Joe Cornish. City of Immortals celebrates the novelty and eccentricity of Père-Lachaise Cemetery through the engrossing story of the history of the site established by Napoleonic decree along with portraits of the last moments of the cultural icons buried within its walls.
About the author
Writer and photographer Carolyn Campbell is a native of Washington, D.C., has lived in Paris and is now a resident of Los Angeles. A published author and exhibited photographer, her fascination with Père-Lachaise was kindled on a first visit to Paris in the early 1980s. With the support and encouragement of her mentor, John Russell—the late New York Times art critic—she embarked on her research and photo documentation of the world-famous cemetery culminating in her bestselling debut book, City of Immortals: Père-Lachaise Cemetery, Paris. A summa cum laude graduate of the Maryland Institute College of Art, she has been working as an arts and communications specialist for over 30 years. She has held executive positions with the Corcoran Gallery of Art, the American Film Institute, and the UCLA School of the Arts and Architecture.