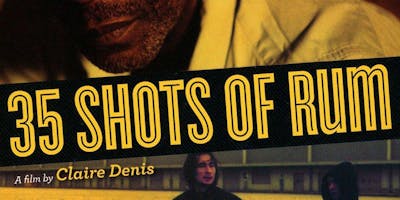 AFDC Film Festival: "35 rhums", by Claire Denis
Saturday 16th November 2019 — 6:30pm to 8:30pm
https://silver.afi.com/Ticketing/visSelectTickets.aspx?cinemacode=1001&txtSessionId=23698&visLang=1Alliance Française of Washington, DC and a French film magazine Cahiers du Cinéma are partnering again, this time to bring you its first Film Festival "SEVEN WOMEN: Seven Decades of Alliance Française through Seven Films by Women".
35 rhums (2008), by Claire Denis will be screened at the Alliance Française of Washington, DC on Saturday, November 16 at 7 pm preceded by a "happy hour" reception starting at 6:30 pm.
35 rhums (2008) | 100 min | France, Germany | in French and German with English subtitles
35 rhums (English title: 35 Shots of Rum) is a 2008 Franco-German drama film directed by Claire Denis. Having been inspired by Yasujiro Ozu's Late Spring, the film follows a father-daughter relationship complicated by the arrival of an attractive young man.
The film made its North American premiere at the 2008 Toronto International Film Festival and was shown outside of competition at the Venice Film Festival. It was later released to limited theaters in 2009.
Lionel (Alex Descas), a widower, has raised his daughter, Josephine (Mati Diop), on his own since she was young. The two are used to living alone, dependent solely on one another. But, now that Josephine is in college, Lionel is beginning to realize they cannot stay isolated forever. Lionel reluctantly accepts the fact that his daughter has grown up and will one day leave him when their neighbor Noe (Grégoire Colin) makes his long-harbored feelings for Josephine known.

AFDC members: $5 + Eventbrite fees; Non-members: $10 - Eventbrite fees
Film Festival Schedule:
Monday, November 11, 3:00 pm at the National Gallery of Art, Lecture Hall of the West Building
La pointe courte (1954), by Agnès Varda | 86 min | France | in French with English subtitles
Tuesday, November 12, 7:00 pm, at Alliance Française of Washington, DC
Détruire, dit-elle (1969), by Marguerite Duras | 100 min | France | in French without subtitles
Wednesday, November 13, 7:00 pm, at the Avalon Theatre
Fad, Jal (1979), by Safi Faye | 112 min | France, Senegal | in Serer with English subtitles
Thursday, November 14, 7:00 pm, at Alliance Française of Washington, DC
La nuit porte-jarretelles (1985), by Virginie Thevenet | 85 min | France | in French without subtitles
Friday, November 15, venue and time TBC
De l'autre côté (2002), by Chantal Akerman |103 min | France, Belgium, Australia, Finland | in French, English, Spanish with English subtitles
Saturday, November 16, venue and time TBC
35 rhums (2008), by Claire Denis | 100 min | France, Germany | in French and German with English subtitles
Monday, November 18, 7:00 pm, at La Maison Française of the French Embassy
Paul Sanchez est revenu! (2018), by Patricia Mazuy |110 min | France, Belgium | in French with English subtitles
Our partners: