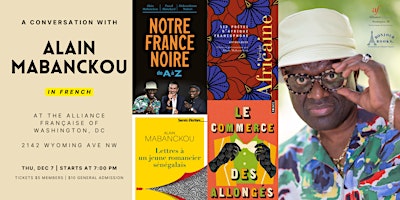 A CONVERSATION WITH ALAIN MABANCKOU (IN FRENCH)
Thursday 7th December 2023 — 7:00pm to 8:30pm
IN-PERSON EVENT AT THE ALLIANCE
Join us to meet a key figure of Francophone literature, Alain Mabanckou, on Thursday, December 7th at 7:00 PM at the Alliance. Alain Mabanckou will be in conversation (en français) with our Academic Director, Ameneh Madjlessi. They will talk about his recently published new works, including:
Le commerce des allongés (Éditions Points)
Lettres à un jeune romancier sénégalais (Éditions Le Robert)
Notre France Noire (a dictionary produced in collaboration with Abdourahman Waberi and Pascal Blanchard)
Anthologie de poésie africaine (Point Poésie)
Event Format
Doors will open at 6:30 PM. A flute of champagne will be served before the conversation starts. The conversation (in french) will be followed by Q&A and a signing session. Copies of the books will be available for sale at the event.
Entrance Policy
Be ready to show your ID and COVID vaccination card at the entrance.
About the author
Alain Mabanckou is a novelist, poet, and nonfiction author. A French citizen born in the Republic of the Congo, he is currently professor of French and francophone studies at the University of California, Los Angeles. He is one of the best-known African writers in France, where he received in 2006 the Prix Renaudot, one of the highest distinctions in French literature. Mabanckou's work has been published in 15 languages. African Psycho, Broken Glass, Memoirs of a Porcupine, Black Bazaar, Letter to Jimmy, and The Lights of Pointe-Noire have been translated into English.