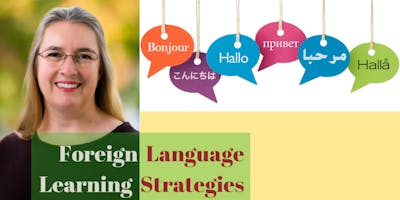 Foreign Language Learning Strategies
Friday 24th May 2019 — 6:30pm to 8:30pm
Ever wondered how to improve your foreign language learning? Finding it hard to remember genders? Grammar rules? Shy about speaking?
Professor WEBEL draws from over 20 years of teaching experience to present efficient foreign language learning strategies. She will discuss techniques for all four skills (listening, speaking, reading and writing) and different type of learners.
About the speaker:
Born and raised in France, Alissa Webel received her diploma in Political Sciences at l'Institut d'Etudes Politiques (Toulouse, France) and her Master in Science of Foreign Service at Georgetown University. She joined the French Department in September 1995 with a particular focus on the intensive track language teaching as well as preparing students to direct matriculate in francophone programs abroad. From 2010 to 2016, she served as the director of the Theta Xi chapter of Pi Delta Phi French Honor society. Aside from teaching, she contributed to the National Capital Language Resource Center's research on learning strategies used by elementary students of immersion programs from 1996 to 2002. She is also a free-lance private teacher as well as a free-lance translator. She has served for several years as the Program Chair and Membership Co-chair of the National Capital Chapter of the American Translators' Association. She's a recipient of the Georgetown College Deans's Excellence in Teaching Award of 2015. Professor Webel After made a very successful first presentation at the AFDC on January 2017.
AFDC Member / Culture Pass: $10 + Processing Fees
General Admission: $15 + Processing Fees
Culture & Events policies:
The member discount is applicable for one ticket for individual membership and 2 tickets for family membership.
Guests must pay the non-member price.
Refunds will be issued when Alliance française cancels an event, or upon a 24-hour request for refund with or without cause sent via email to cultureaf(at)francedc.org by an attendee. No other refunds will be given.
The cultural department highly recommends advanced registration (online, by phone, or in person), as events sell out quickly.
If tickets are available, the AFDC can accept payment at the door by credit card, check, or cash (exact change only). The AFDC cannot make change at the door. The AFDC reserves the right to refuse entry to sold out events.
2 hours street parking from 7:30am to 8:30pm.