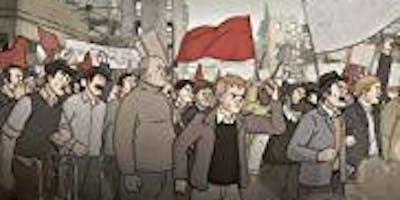 Ciné-mômes | Un homme est mort
Friday 17th May 2019 — 7:00pm to 9:00pm
Ciné-Mômes (FR) - May 17, 2019 | 7pm--9pm
---
We are excited to bring back our Ciné-Mômes program for 2018/2019!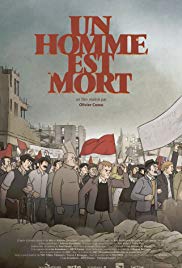 Come discover newly released and classic French films for children! Join on us on May 17th for the new animated film Un homme est mort adapted from the bande dessinée of the same name. Below you'll find a description of the movie in French and English.
Brest, 1950. Les ouvriers, en grève, réclament des hausses de salaires. P'tit Zef, Édouard et Désiré participent à la manifestation organisée par la CGT quand de violents affrontements surviennent. Les policiers tirent sur la foule et une balle atteint Édouard en plein front. La CGT fait alors venir le cinéaste René Vautier pour faire un film sur les événements.
In post-world war 2 France, the reconstruction effort leads to over exploitation of the working class. Labor unions demand better working conditions and decent salaries. During a demonstration in Brest, the police shoots at the crowd. Edouard Mazé is killed. A filmmaker, René Vautier, films the workers on strike, and Edouard's funeral. The film is shown to the workers across the region, accompanied by a poem by Paul Eluard, A Man Is Dead.
Watch the trailer in French.
This event will be in French. Kids ages 12 to 18.
For questions please contact Adeline D'HONDT or Kelsey HAMMER