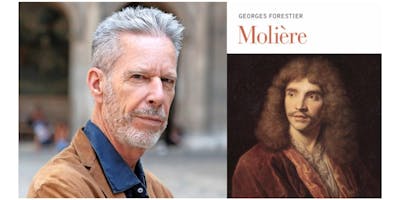 BOOK TALK AND SIGNING: «Molière» de Georges Forestier
Wednesday 24th April 2019 — 7:00pm to 9:30pm
Nous avons le plaisir de vous accueillir à l'Alliance Françase de Washignton, DC pour une rencontre fascinante ! Georges Forestier, LE spécialiste de Molière en France, parlera de son nouveau livre, une biographie de Molière parue dans la collection «NRF Biographies» en octobre 2018.
A PROPOS DE L'AUTEUR: Professeur à l'université Paris-Sorbonne (Chaire « Études théâtrales du 17e siècle ») depuis 1995. Membre senior de l'Institut universitaire de France (IUF) depuis 2011.
A PROPOS DU LIVRE: (Quatrième de couverture): Il existe un mythe de Molière édifié sur un monceau de légendes. Comment retrouver le vrai Molière, celui que ses contemporains ont connu et qui nous est largement dérobé ? Il ne subsiste de lui ni manuscrits, ni lettres, ni écrits intimes. Georges Forestier tente de se glisser dans l'intimité du créateur. Il en reconstitue la formation intellectuelle, révèle les secrets de fabrication de ses oeuvres et fait découvrir la logique qui préside à l'enchaînement des pièces en perpétuel renouvellement.
L'événement en français. Un cocktail sera servi après l'événement.
AFDC Member / Culture Pass: $10 + Processing Fees - General Admission: $20 + Processing Fees.
Culture & Events policies:
The member discount is applicable for one ticket per member.
Guests must pay the non-member price.
Refunds will be issued when Alliance française cancels an event, or upon a 24-hour request for refund with or without cause sent via email to cultureaf(at)francedc.org by an attendee. No other refunds will be given.
The cultural department highly recommends advanced registration (online, by phone, or in person), as events sell out quickly.
If tickets are available, the AFDC can accept payment at the door by credit card, check, or cash (exact change only). The AFDC cannot make change at the door. The AFDC reserves the right to refuse entry to sold out events.
2 hours street parking from 7:30am to 8:30pm.