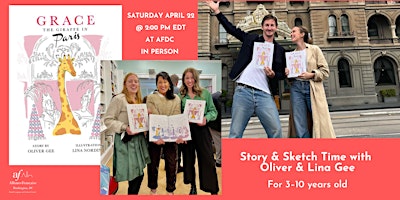 Books & Literature
Children
Grace the Giraffe in Paris: Story Time with Oliver & Lina Gee [IN-PERSON]
Saturday 22nd April 2023 — 2:00pm to 3:00pm
3–10 year-olds and their parents are invited to join us for a reading & sketching time with author Oliver Gee and illustrator Lina Nordin Gee as they read their new picture book Grace the Giraffe in Paris. Following the reading, Lina will show participants how to draw a giraffe and then the pair will answer questions about what inspired this story.
Format
Oliver and Lina will join us directly from Paris on Zoom and will appear on the big screen in our library. Children and parents will be accommodated in the library, where we will set up tables for drawing.
Books
We will be selling all three books at the event, but you can also order your copy in advance from theearfultower.com. There are three books in the series from husband/wife duo Oliver and Lina Gee: Kylie the Crocodile, Roger the Liger, and Grace the Giraffe.
About Oliver Gee and Lina Nordin Gee
Oliver Gee is the creator of the award-winning podcast about Paris and France, The Earful Tower. He used to be a full-time journalist in Paris, but switched to podcasting in December 2017. Lina Nordin Gee runs a chic shoe and handbag company, Deuxième Studios, and likes to draw and paint. You can see her illustrations on Instagram @ParisianPostcards. Together, they published three children's books, and Oliver Gee also published Paris on Air: A Memoir.
To attend, please bring proof of vaccination.