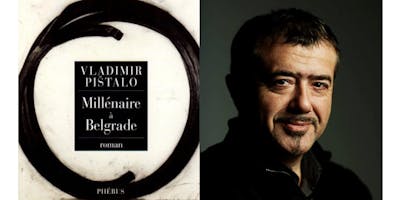 BOOK TALK: "Millennium in Belgrade", by Vladimir Pistalo
Tuesday 26th March 2019 — 7:00pm to 9:30pm
The Alliance Française de Washington in partnership with the Embassy of Bosnia and Herzegovina and the Embassy of Serbia is proud to present "Millennium in Belgrade" by Vladimir Pistalo as part of DC Francophonie Festival. The novel has been shortlisted for the prestigious French literary award for translated fiction "Prix Femina" (2018). Presentation will be held in English, some excerpts from the book will be recited in French.
ABOUT THE LECTURER: Vladimir Pistalo, the most translated Serbian author, was born in Sarajevo in 1960. Pistalo got his PhD in American History at the University of New Hampshire. Before immigrating to the United States in 1993, he worked as a journalist and critically commented on the bloody destruction of Yugoslavia in his column in the "Vreme" magazine. Vladimir Pistalo published 12 books of fiction ranging from poetic prose to novels and is currently teaching US and World history at Becker College in Massachusetts.
Event in English. Glass of wine after the event.

AFDC Member / Culture Pass: FREE
General Admission: FREE
Culture & Events policies:
The member discount is applicable for one ticket per member.
Guests must pay the non-member price, unless otherwise specified.
Refunds will be issued when Alliance française cancels an event, or upon a 24-hour request for refund with or without cause sent via email to cultureaf(at)francedc.org by an attendee. No other refunds will be given.
The cultural department highly recommends advanced registration (online, by phone, or in person), as events sell out quickly.
If tickets are available, the AFDC can accept payment at the door by credit card, check, or cash (exact change only). The AFDC cannot make change at the door. The AFDC reserves the right to refuse entry to sold out events.
2-hour street parking from 7:30am to 8:30pm.