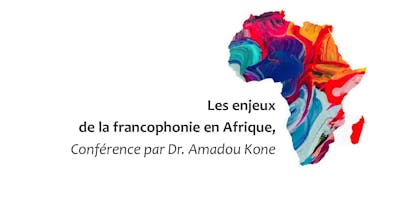 CONFÉRENCE: Les enjeux de la francophonie en Afrique
Friday 15th March 2019 — 7:00pm to 9:30pm
Nous avons le plaisir de vous inviter à cette conférence organisée dans le cadre du festival de la Francophonie DC. Dr. Amadou Kone, professeur à Georgetown University, parlera des enjeux de la francophonie en Afrique pour le 21eme siècle.
Amadou Koné est originaire de la République de Côte d'Ivoire. Il a fait ses études en Côte d'Ivoire et en France. Docteur 3e Cycle et Docteur d'Etat ès Lettres, il a été professeur à l'Université Nationale de Côte d'Ivoire à Abidjan-Cocody pendant une quinzaine d'années , puis professeur à Tulane University et enfin Professeur à Georgetown University où il enseigne depuis 1998. Dans ses recherches, il s'intéresse à la littérature africaine orale, aux problèmes de la transformation des textes anciens africains en romans modernes, aux questions de l'écriture d'une littérature africaine en langue française. Son enseignement qui est lié à ses recherches est également consacré à l'histoire et aux cultures africaines. Amadou Koné est aussi connu comme romancier (Le Pouvoir des Blakoros) et dramaturge (De la Chaire au Trône). Sa pièce de théâtre, Sigui, Siguila, Siguya, écrite ici à Washington DC, a été montée au Gonda Theater par le Département de Français et d'Etudes francophones de Georgetown University en 2006.
L'événement en français. Un cocktail avec des petits fours seront servi après l'événement.
AFDC Member / Culture Pass: $10 + Processing Fees - General Admission: $15 + Processing Fees.
Culture & Events policies:
The member discount is applicable for one ticket per member.
Guests must pay the non-member price.
Refunds will be issued when Alliance française cancels an event, or upon a 24-hour request for refund with or without cause sent via email to cultureaf(at)francedc.org by an attendee. No other refunds will be given.
The cultural department highly recommends advanced registration (online, by phone, or in person), as events sell out quickly.
If tickets are available, the AFDC can accept payment at the door by credit card, check, or cash (exact change only). The AFDC cannot make change at the door. The AFDC reserves the right to refuse entry to sold out events.
2 hours street parking from 7:30am to 8:30pm.