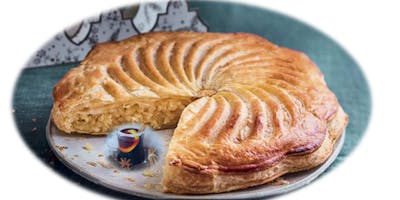 Adults
French Culture
Tasting
GALETTE DES ROIS with Maison Kayser
Friday 11th January 2019 — 6:30pm to 8:30pm
You could possiblibly discover a lot by yoursel browsing on the web, no way it will as much funny as it will be with our Communication Coordinator, aka Raphaela! Maison Kayser will support us again to launch the 2019 Cultural season, so join us to taste their delicious Galette des Rois. They will please all palates while Raphaela will entertain our soul... A merry and savory event is on its way.
This event will be in English, and French after drinking Sophie's cocktail!

Culture & Events policies:
The member discount is applicable for one ticket for individual membership and for two tickets for family membership.

Guests must pay the non-member price.

Refunds will be issued when Alliance française cancels an event, or upon a 24-hour request for refund with or without cause sent via email to executive.assistant@francedc.org by an attendee. No other refunds will be given.

The cultural department highly recommends advanced registration (online, by phone, or in person), as events sell out quickly.

If tickets are available, the AFDC can accept payment at the door by credit card, check, or cash (exact change only). The AFDC cannot make change at the door. The AFDC reserves the right to refuse entry to sold out events.