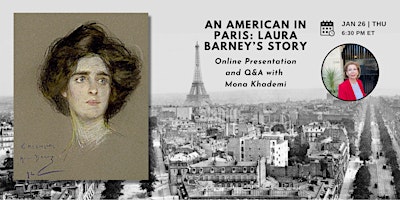 An American in Paris: Laura Barney's Story
Thursday 26th January 2023 — 6:30pm to 7:30pm
Join us for a very special online presentation on Thursday January 26 at 6:30 pm ET with Mona Khademi, author of the recently published biographyThe Life of Laura Barney. The book traces the journey of Laura Barney from her pampered childhood in Ohio to her life as a feminist, Bahá'í teacher, philanthropist and peacebuilder who was twice decorated by the French Legion of Honor.
Laura Barney was the daughter of painter, playwright, and art patron Alice Pike Barney, who was very influential in cultural and artistic circles in Washington, DC in the early 1900s. Together with her mother and sister Natalie, who held literary salons for over five decades in Paris, Laura spent a significant portion of her life in France. During World War I, she worked as a night nurse with the American Ambulance Corps in Paris and the American Red Cross in Marseilles. She was also a consultant to the League of Nations, and later the United Nations. In Paris, she was introduced to the Bahá'í Faith and became an ardent supporter, helping spread the religion around the world. For her lifetime of service, she was named chevalier (1925) and officer (1937) of the French Légion d'Honneur.
In this online presentation, based on 22 years of research, Mona Khademi will discuss Barney and her connections with Paris and France. During her many years of researching the book, Khademi worked in the archives of several countries and conducted interviews with people who had personally met Laura Barney.
A Q&A session will follow the presentation. The biography The Life of Laura Barney (2022) is available on Amazon.