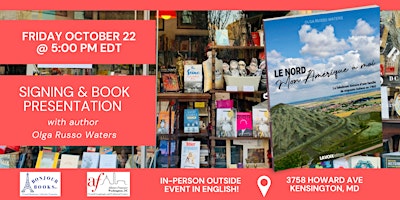 IN-PERSON Signing & Book Presentation with Olga Russo Waters
Friday 22nd October 2021 — 5:00pm to 6:00pm
This event will be held in English outside, in the courtyard of Bonjour Books DC at 3758 Howard Ave, Kensington, MD 20895. RSVP on Eventbrite to join us!
Discover the story of Olga and her family who left their native Italy to settle in northern France... and finally found themselves in the US.
Olga will share her childhood memories living in the coal mining community in the north of France to which she remains deeply attached. She will talk about her immigration in the US, her lifelong passion for France and the French language, her dream coming true when she got a chance to come back to her childhood town in France and visit the school she attended as a little girl, raising her own children in a multicultural family, and much more.
Participants will have the opportunity to ask their questions to the author during the Q&A session in French and in English and have their copies of the book signed.
Books are available at Bonjours Books DC at 3758 Howard Ave Kensington, MD 20895 (store hours: Tuesday-Saturday 11am-5pm; Sunday 12pm-5pm) and for online orders here.