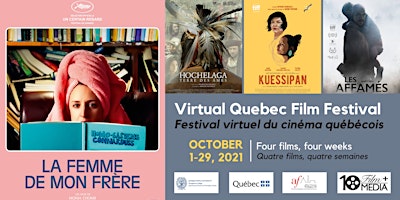 Virtual Quebec Film Festival: La femme de mon frère (Quebec, 2019)
Friday 22nd October 2021 — 6:00pm to 10:00pm
The Department of French and Francophone Studies of Georgetown College, the Québec Government Office in Washington, and the Alliance Française of Washington, DC are proud to present the film "La femme de mon frère " (2019) by Monia Chokri as part of the 2021 Virtual Quebec Film Festival. The Festival will feature four films and a panel discussion. Scroll down for the entire film festival program.
About the film
Sophia, an unemployed academic, is forced to change the way she thinks and lives her life, when Karim, her beloved brother, falls in love.... You can watch the trailer here.
Duration: 1h 57min.
The screening is free, but advance registration is required. All registered people will receive an email with credentials to access Eventive to watch the film. The film will be available between October 22-24, 2021.
Festival Program
Oct 1-3: Hochelaga, terre des âmes (screening via Eventive) RSVP here.
Oct 15-17: Kuessipan (screening via Eventive) RSVP here.
Oct 22-24: La femme de mon frère (screening via Eventive)
Oct 28: Les affamés (Netflix watch party) Coming soon.
Oct 29 @ 5 PM EST: ZOOM roundtable discussion with Robin Aubert, Director of "Les Affamés" & Dr. André Loiselle, Dean of Humanities and Professor of Film Studies at St. Thomas University. RSVP here.