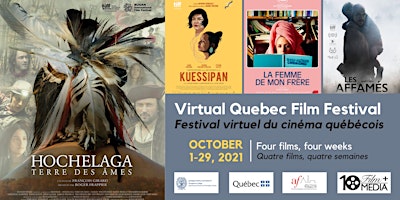 Virtual Quebec Film Festival: Hochelaga, terre des âmes (Québec, 2017)
Friday 1st October 2021 — 6:00pm to 10:00pm
The Department of French and Francophone Studies of Georgetown College, the Québec Government Office in Washington, and the Alliance Française of Washington, DC are proud to present the film "Hochelaga, terre des âmes" (2017) by François Girard as part of the 2021 Virtual Quebec Film Festival. The Festival will feature four films and a panel discussion. Scroll down for the entire film festival program.
About the film
In this four-time Canadian Screen Award-winning film, Québécois director François Girard tells the 750 year-long story of Hochelaga, from its origins as a St. Lawrence Iroquois village to the arrival of Jacques Cartier in 1535 and subsequent French and British colonization, through the 1837-38 Rebellions all the way to 2017, the 375th birthday of Québec's metropolis, Montréal.This epic narrative offers a kaleidoscopic take on history that prompts timely reflection on the role of origin, identity, and place in shaping the soul of a nation.The film is presented in French, English, Algonquin, and Mohawk with English subtitles. You can watch the trailer here.
Duration: 100 minutes. Rating: PG-13.
The screening is free, but advance registration is required. All registered people will receive an email with credentials to access Eventive to watch the film. The film will be available between October 1-3, 2021.
Festival Program
Oct 1-3: Hochelaga, terre des âmes (screening via Eventive)
Oct 15-17: Kuessipan (screening via Eventive) RSVP here.
Oct 22-24: La femme de mon frère (screening via Eventive) RSVP here.
Oct 28: Les affamés (Netflix watch party) Link coming soon.
Oct 29 @ 5 PM EST: ZOOM roundtable discussion with Robin Aubert, Director of "Les Affamés" & Dr. André Loiselle, Dean of Humanities and Professor of Film Studies at St. Thomas University. RSVP here.